Nothing Is Sacred Anymore
Nothing Is Sacred Anymore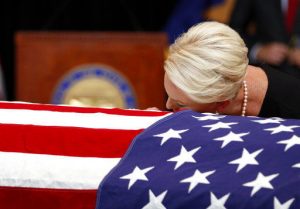 President Trump's worst characteristic is his spitefulness for those he doesn't like. While most of us cringe as his unartful statements leave his lips and tweets hit the feed, the media talking heads chastise him. Unfortunately, those who castigate him for this vice, put it on full display this weekend.
For the rest of America, a funeral is a time to celebrate a person's life, remember their endearing qualities, share memories, and be thankful for your time with the deceased. What we learned this weekend is that even while standing in the house of the Lord, virtue signaling your political opinion is more important than mourning the dead. Nothing is sacred anymore.
The necessity to interject politics into every aspect of American life is a cancer on our culture. Constant criticism of our political opponents was once a benign practice confined to our news media and Facebook debates. This disease has now metastasized to every corner of our life. It's injected into television, sports, chicken sandwiches, quaint little restaurants in Virginia, and now the simple act of burying our dead. Rather than cherishing the final moments of our time with our kin, we look for opportunities to 'own' our enemies.
Despite his best effort to exclude Donald Trump from his memorial, John McCain's funeral was very much about Trump. We listened as leaders criticized our destructive political climate while simultaneously participating in it. We heard blanketed insults towards our president when the focus should have solely been on the patriot in the casket. What aired on September 1st, was not a respectful memorial, it was a roast masquerading as a funeral complete with Royal Wedding style media coverage. President Trump truly is a remarkable deal-maker. He has purchased equity inside the frontal lobe of every resister without even spending a dime.
Additionally, the sudden adoration for McCain gave the service an air of forgery. Candidate McCain was a decent man when running for president in 2008, but you wouldn't have known that if you were a democrat then. Back then he was the usual republican racist, sexist, bigot, etc. according to the left. The 'maverick' they loathed is now the 'maverick' revered.
Before penning my judgements on the ceremony, I re-evaluated my stance. Maybe I was being dramatic in my assessment? But my original interpretation was proven correct by The New Yorker in a piece titled, John McCain's Funeral Was the Biggest Resistance Meeting Yet. Not only were the elites using the death of McCain to attack Trump, they were proud of themselves for doing it. They are completely unashamed of their attempt to use a funeral to sway political opinion. Our culture has now descended into the bowels of political ire at the expense of our burials, something we once held sacrosanct.
I keep naively thinking that this hyperbolic state of outrage will eventually fall into remission. That perhaps some rational discourse, positive economic data, and a reduction in foreign intervention might quell the fears of the left. That maybe, just maybe, the president's pettiness might be countered with the advice from Michelle Obama, "When they go low, we go high."
But it appears that this cancer has festered for far too long and is now terminal.
The president's statements about McCain's POW status were abominable and the flag snafu after his passing was petty and mean-spirited. But rather than respectfully mourning John McCain, it appears the resistance saw it as an opportunity to one-up this poor behavior.
It's as if Trump said "No-one disrespects McCain as well as I do. No-one."
The resistance: "Hold my beer."