A Tale Of Two Countries
A Tale Of Two Countries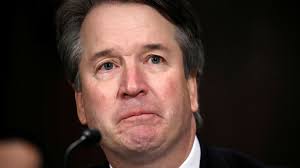 Last week marked a pivotal point in American politics. The Left's failing effort to nail Judge Brett Kavanaugh on intentionally vague and deliberately unprovable rape accusations made it clear that there is no deceitful tactic they won't use to resist Republicans. Whatever conniving means they can use, they will. Your family, your job, your children, and your character are all collateral damage in their fight for power.
This is a historic new low. Certainly, never in my lifetime have I witnessed something this cunning and that opinion seems to be shared among older conservatives as well. Even among liberals, there is the perception that this has now gone way too far. Just to recap (and to cause a brain aneurism for the leftists reading this) there is ZERO evidence of any wrong-doing on behalf of Kavanaugh. ZERO. No physical evidence, no location, no date, and not a single corroborating witness named by Dr. Ford.
We are now at the point of what I fear is an irreparable divide in America.  The left and the right share absolutely no values. How can we even share a country?
One half of the country looks to the constitution as a guiding principle for governance. The other views it as an obstacle to more state power.
One half believes in the value of free speech. The other half considers 'hate speech' literal violence… but sees no problem with setting campuses on fire and beating people with bike locks.
One side wants the right to defend themselves from the Nikolas Cruzes of the world. The other gets PTSD from the site of an AR-15.
One side wants to uphold one of the defining characteristics of Western Civilization: that the burden of proof be levied with the accuser and that you are innocent until proven guilty. The other side celebrates an accusation destroying everything you have worked for your entire life.
It is the Rules For Rationales vs. the Rules For Radicals.
As my decade+ tenure abroad may be coming to an end, I now must consider where I will live in America and where I can go where people hold my values. This is proving to be a daunting task as half the country not only disagrees with my values but detests them.
How can I live in a community that will automatically deem my husband a victim based on his excessive melanin? How can I send my kids to schools where educators will teach them that their slight pigmentation is more valuable than their skill set? For the left, my children and husband are automatically apart of the victim hierarchy while I must remain on the peripheral as a white ally. And what will become of my family when an irate Marxist gets an inkling of the conservative values we live by?
We are up against an entity that believes obese women are now beautiful, that multi-millionaire athletes are victims, and that gender is a malleable characteristic.  When our fellow citizens are murdered by illegals, we want to protect other Americans. Instead the left rushes to protect the law-breakers.
We cannot agree on foundational principles because the left has no principles. The operate by any means necessary. The freedoms that we hold dear they wish to transfer to the state. They disdain the values for which our ancestors died.
When the Republicans stopped Merrick Garland from becoming a Supreme Court Justice they simply refused to hold the vote. They didn't accuse him of being a gang rapist. Kavanaugh has been nominated for a lifetime appointment, but the crimes he is falsely accused of are worthy of lifetime imprisonment.
The slander of Judge Kavanaugh is proof that there is no middle ground. The left is completely devoid of morality. They hate America and will do anything to destroy it.
There are men and women in America salivating over the demise of the entire Kavanaugh family. They have never stopped to think "What if someone were to do this to me?" Would the 'Believe All Women' crowd uphold that standard when it was imposed on them or their husband or son. I doubt it. But perhaps that's exactly what these people deserve; to lose the presumption of innocence and the necessity for evidence. They will never appreciate the values of American jurisprudence until they lose them.